Astral Blue Jacket PFD
The Blue Jacket is Astral's top of the line sea kayak PFD. Stylish looks present itself to a similar look as Astral's popular river kayaking PFD, the "Green Jacket", but with the features serious expedition touring kayakers are looking for. Listed as a Type III PFD with 15.5lbs of buoyancy. It's side entry with buckles is not for everyone, but once it's on you'll love the freedom of movement and lack of chafing while paddling. Eliminating a front entry zipper makes it possible to design a more comfortable PFD. Can also be used as a pull-over vest without releasing the side buckles.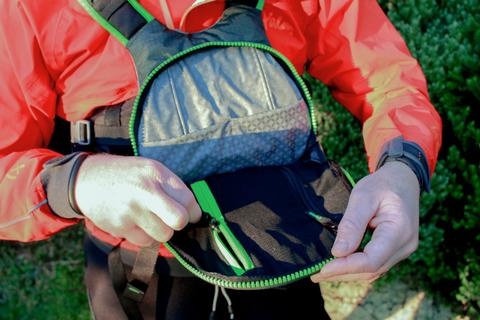 Features include: torso height adjustment straps located low in front where they are easy to use, fleece lined hand-warmer pouch below the center pocket, left and right rear lash tabs for strobe and fixed lights, L & R lash tabs on shoulder straps for knife, belt loops for adding a quick release belt and tow system (sold separately), large central pocket with dividers to hold VHF radio and GPS and an internal zippered mesh pocket, and a hydration sleeve incorporated into the rear panel with routing loops for hose and bite valve (hydration system not included). There are two other small zippered pockets on both sides of the bottom part of the rear panel.
Note the belt loops are not designed for Swiftwater Rescue harness use. See the "Green Jacket" for whitewater applications.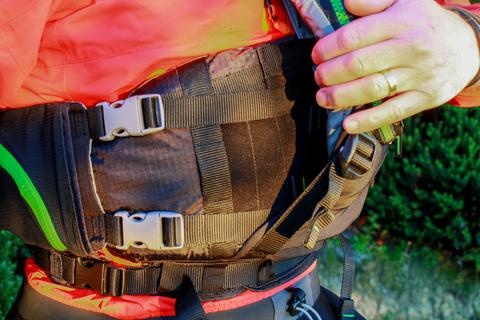 Intended Use: Sea / Whitewater / Fishing / Tour
Entry: Side Release Buckle
Foam Insert: PVC Free Gaia® & 100% PE Foam
Shell Fabric: 200 x 400 Denier Ripstop Nylon
Liner Fabric: 200 Denier Light Weight

Nylon Webbing:

Polypro

Zipper: YKK® Self Locking Vislon Teeth

Hardware: Heavy Duty Acetal and Stainless Steel
Weight: 2 lbs / 32 oz / 907.18 gr
Sizing: S/M = 31-37" M/L = 38-44" L/XL = 45-51"
Design Buoyancy: 16.4 lbs
Approval Type: USCG Type III
Hydration Bladder Compatibility: Recommend Crux 2L or similar size
XS (Layla only) = 27"-31"
S/M = 31"-37"
M/L = 38"-44"
L/XL = 45"-51"
How to find the right PFD?
From fit to function, Zack explains the in's and out's of choosing the ideal personal flotation device.