Login
Log in if you have an account
Register
Having an account with us will allow you to check out faster in the future, store multiple addresses, view and track your orders in your account, and more.
Create an account
Kayak Fishing is Dangerous: True or False?
23 May 2019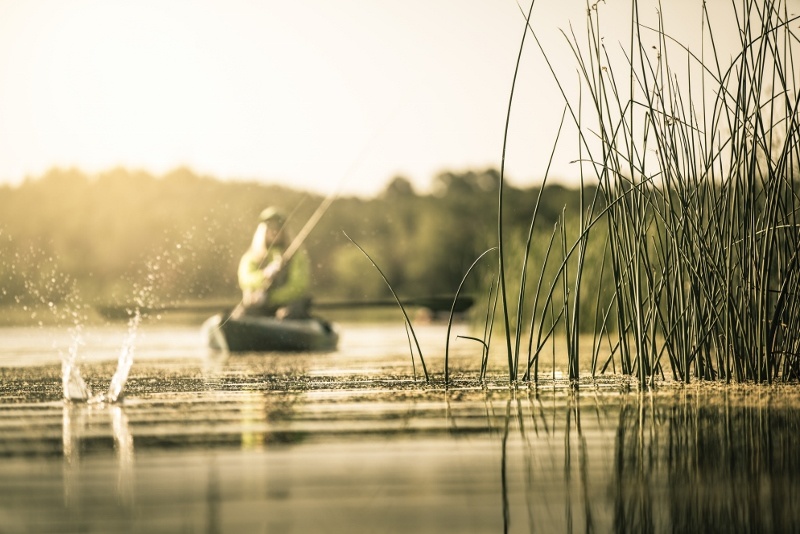 The simple answer is, yes, it is…. Dangerously addictive!
However, the real answer is, no, kayak fishing is not dangerous. At least it doesn't have to be. Being on the water will have certain risks, of course, but with a little common sense, some quick education, and the proper preparation, we can avoid the danger and take advantage of the pleasure.
So how do you make your kayak fishing experience safer?
With most fishing kayaks being sit-on-top (S.O.T.) designs, time of year is a chief consideration before heading out. Early spring and late fall include cooler air temperatures and frigid waters; sitting on top of a kayak rather than inside and wearing a spray skirt means you're completely exposed to both air and water. If you aren't dressed properly, this can lead to potentially fatal situations.
The body of water is also a core concern. Sit-on-top kayaks are recreational in nature and not designed for ocean paddling away from shore or on large, open lakes with rough water. While most S.O.T. kayaks feature self-draining scupper holes to prevent the boat from sinking, water is always entering the boat when there are waves or significant boat traffic. And if that water is chilly, we all know how uncomfortable being sopping wet and cold is.
Beyond that, recreational kayaks are less efficient when paddling in adverse conditions; they are slower through the water, get tossed about in the wind and waves, and require a ton of energy to keep moving. Now imagine capsizing in cold, choppy water when you're exhausted and need to get back onto your kayak as quickly as possible.
That said, some models handle unfriendly environments better than others, but if you're new to kayak fishing (or paddling in general), it's wise to stick to the back lakes, ponds, and areas you are familiar with. Here are a few other things that will improve your kayak fishing experience regarding time of year and body of water:
Immersion clothing – dry suits, wet suits, and other paddling clothing from companies like Kokatat, NRS, and Level Six protect you from the elements and cold water
Stay close to shore or in sheltered bays – if your only access to water is on large lakes or the ocean, staying in protected inlets or close to land increases your safety
Wear your PFD – It cannot save your life if it's not worn. Companies such as Salus Marine, Kokatat, and NRS have comfortable options designed specifically for kayak fishing
Pay attention to the weather – spring and fall are notorious for unpredictable conditions and things can change for the worse within minutes
What's better for fishing, kayaks or canoes?
Now that we've discussed some safety aspects of kayak fishing, it's time to address the elephant in the room: are kayaks better to fish from than canoes?
The answer is… it depends. However, there are some definite benefits to fishing kayaks over canoes, especially when it comes to day outings.
There's the misconception that kayaks are less stable than canoes. Different designs offer different performance aspects, sure, but canoes will lack the stability that's provided in sit-on-top fishing kayaks. One difference is centre of gravity. Kayaks sit lower in the water, while canoes have paddlers seated at a high vantage point; the lower your centre of gravity is, the more stable you'll be on the water.
Here are a few other benefits of fishing kayaks over canoes:
More efficient in adverse conditions – canoes have a higher sheer line that is more susceptible to weather cocking and being blown off course
Generous outfitting options – fishing kayaks come with loads of mounting locations or pre-installed gear tracks making it easier to customize your boat with rod holders, fish finders, and other accessories from companies like YakAttack and RAM Mounts
Accommodates motor / pedal drive systems – motors can be installed on canoes, but that may require modification that will void any warranty and increase cost. Manufacturers like Jackson Kayak, Wilderness Systems Kayaks, and Perception Kayaks all have options that are built with drive systems in mind
You can stand up – Given the width and flat hull shape of fishing kayaks, some are so stable allowing you to confidently stand if needed. This is especially advantageous when it comes to fly fishing, and some boats like the Mayfly are built with that type of angling in mind.
What about the motorboats?
Naturally, bass boats or motor crafts designed for fishing are the pinnacle when it comes to angling. But kayaks have benefits over those as well.
Cost is the main gain as motorboats are significantly more expensive, must have a registered trailer to transport it, need insurance coverage, and a pleasure craft license is required to operate them. Not-to-mention, they are powered by gasoline which is always going up in price.
Boats with gas-powered engines also have limitations to them as they aren't permitted within Provincial and National Parks and some conservation areas. But kayaks are. This means by fishing from a kayak, you are given access to the action of 'unspoiled' lakes and bodies of water with fish that are less likely to be spooked.
Lastly, motorboats are inherently more dangerous than kayaks. They move along the water at high speeds and capsizing almost always leaves you in serious need of assistance. There's a greater potential for you to lose consciousness in a motorboat accident, and the chances of being knocked out when tipping a kayak are substantially lower. I'd even go as far as to argue that motorboat fatalities are significantly higher than those caused by tragic kayak incidents.
So is kayak fishing dangerous?
Again, any sport involving water can be dangerous, but kayak fishing certainly doesn't have to be. Know your limit and stay within it; don't go out in conditions you're not comfortable in, wear the proper clothing and safety equipment, and use common sense.
Fishing kayaks offer a new way of enjoying the great sport of angling and provide you with opportunities that can't be found in any other type of craft. So try something new this season and get hooked on kayak fishing!
Experience a vastly superior purchasing process with free test paddling everyday
Frontenac Outfitters invites you to experience the freedom of performance!
Canada's paddlesports experts, since 1984