Login
Log in if you have an account
Register
Having an account with us will allow you to check out faster in the future, store multiple addresses, view and track your orders in your account, and more.
Create an account
Hot tenting at Frontenac Outfitters
24 Jan 2022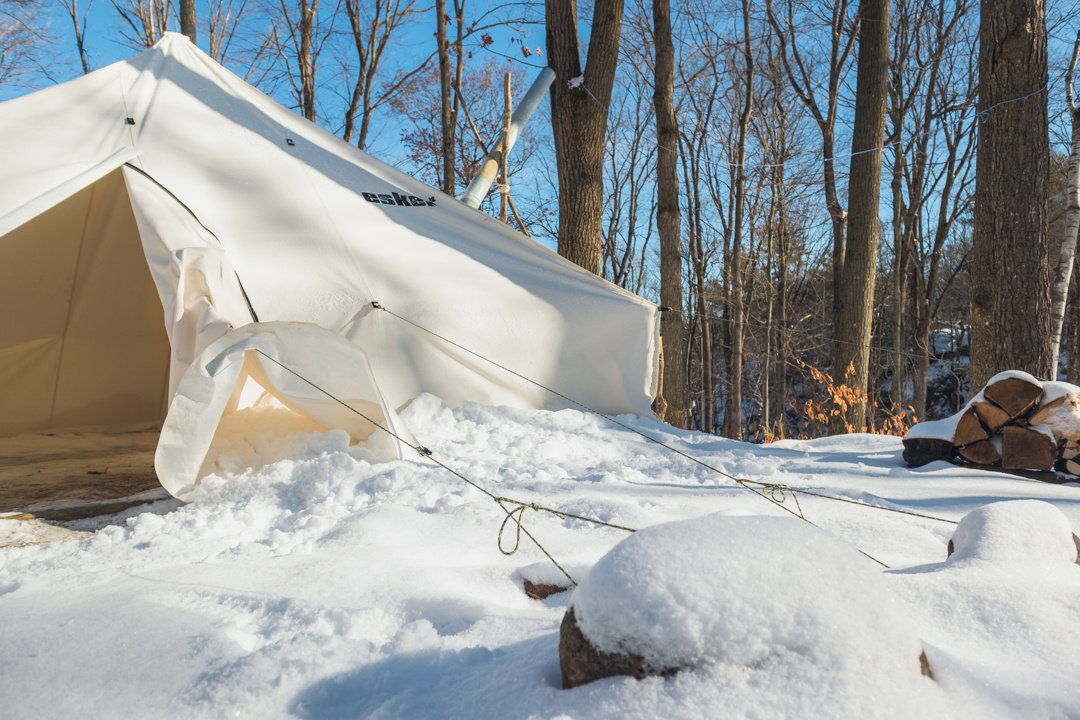 New to hot tenting? Start Here!
We have some beautiful campsites on our property where we will have a tent already set up for you to use. We offer instructions on operating the stove safely, and we will provide you with a sled to easily transport gear and firewood. As an added security measure, you'll be able to park a short walk from your vehicle should you need to leave.
$125 per night for up to 2 people; minimum of 2-night stay.
$25 per additional night/person
  Hot tent and stove set up (enough room to sleep 3-4 adults)

  Check-in time is 2 pm and Check-out time is 11 am

  Small sleds to haul gear and wood to your campsite

  We provide one large bag of firewood for free

  Firewood available for purchase (We ask that you do not scavenge wood from our property)
For example, four people staying two nights, with no additional rental gear, would cost $350 +HST
We have some additional gear available for rent although the supplies are currently limited. Feel free to email or call us to find out the availability of sizes. 
Sleep System rentals*
$25 per night, per person
Includes an ultralight cot, and an inflatable sleeping pad
Snowshoes rentals* (1 pair)
$15 per calendar day
Three different sizes are available that can accommodate weights from 130lbs to 350lbs
*Limited supplies
*All prices are subject to HST*

*Please Note* A reservation deposit of $200 will be required upon reservation, and we will keep a credit card on file. The reservation deposit will be fully refunded within 24 hours of your checkout time to allow us enough time to inspect the tent and the campsite. All or a portion of your deposit may not be refunded if the tent is damaged, excessively dirty or if the campsite was not left clean. The credit card will be charged for, up to, the replacement cost if the tent is stolen or is damaged.  
Cancellations made without 72 hours of notice may only have 50% of their deposit refunded.
What to prepare for
Prepare for cold-camping: For safety reasons, you cannot burn wood in the stove while you sleep. You must bring a cold-weather sleeping bag. Even if you could safely run the stove all night,  We recommend something with a minimum rating of -20C or -15C paired with another sleeping bag or quilt. Click here for a selection of sleeping bags we carry and suggest.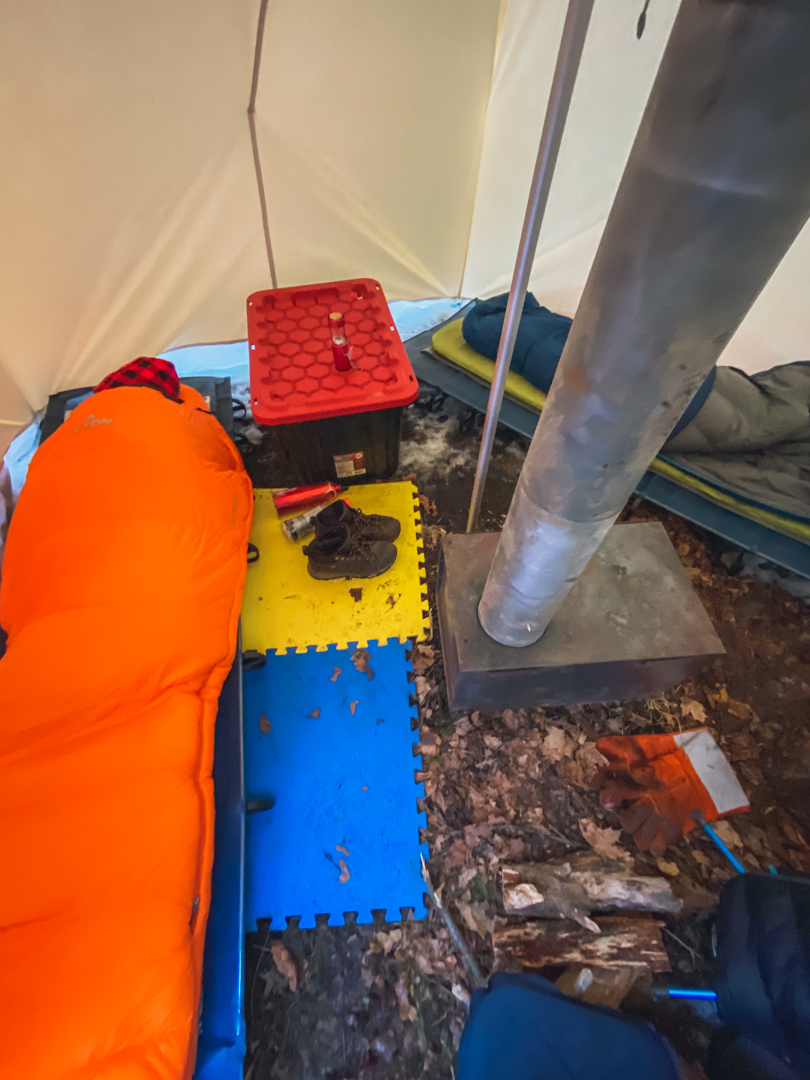 Even though you're able to use a wood stove for cooking, we recommend that you bring a camp stove suitable for cold weather. This will speed up the process of boiling water and can be a backup/additional cooking source. Click here for a selection of camp stoves that we recommend for the cold weather.
Although the firewood we sell will be cut to the appropriate size for the wood stove, you may have to split pieces with an axe to get some to burn correctly. We carry a selection of fine axes by the legendary Council Tools and collapsable bucksaws by Esker. Check them out here.
Safety Considerations
There are inherent risks involved with winter camping. Please understand the dangers and how to avoid them. Never solely rely on your wood stove to keep you warm. There are situations when it may be difficult to light a fire, so be prepared with the proper clothing, a cold-weather sleep system and another means of boiling water and cooking food.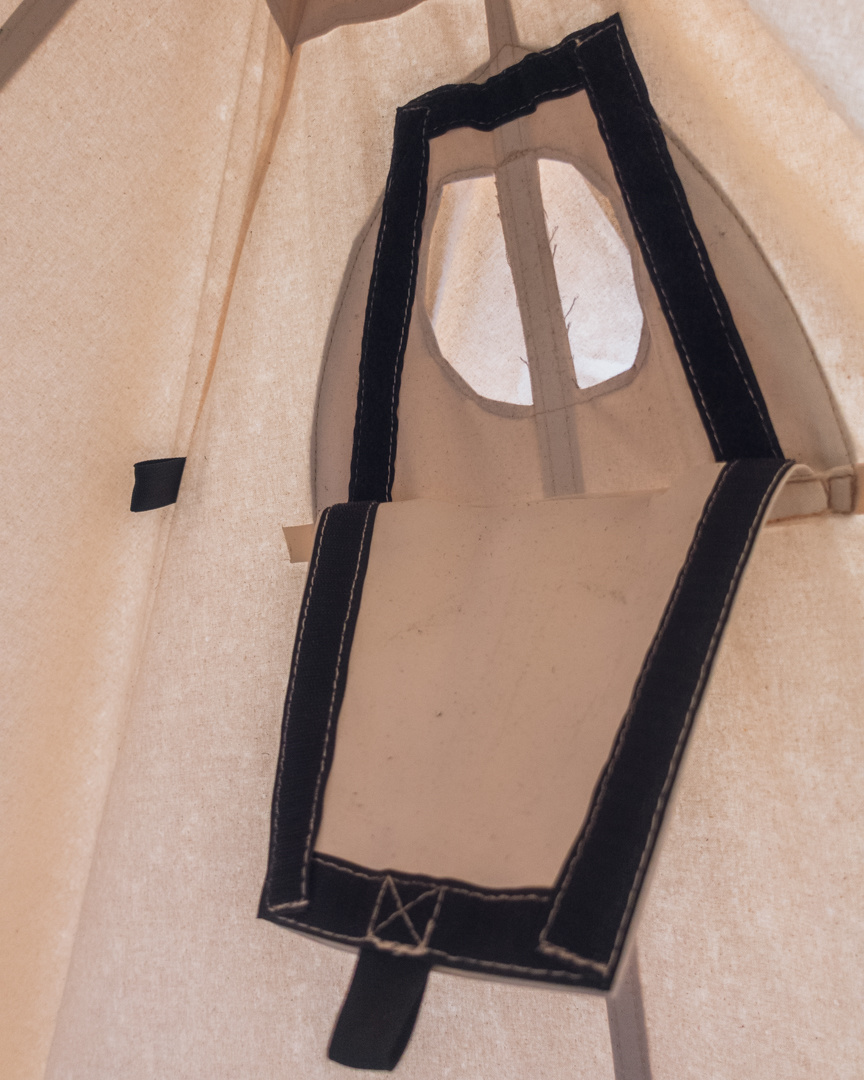 While carbon monoxide poisoning is possible, the risk of that is low. The vent(s) at the top of the tent is to be left open at all times, and we ask that you have some form of carbon monoxide detection such as an electronic device or a candle - which leads to the next point.
No open flame inside the hot tent. Candles are encouraged as a means of carbon monoxide detection, but we only condone the use of candles when the flame is protected, such as a Candle Lantern or a Candlelier. There is a greater risk of burning the tent down than carbon monoxide poisoning.
No propane heaters or cooktops are allowed to be used inside the tent. The use of propane burners dramatically increases the risk of carbon monoxide poisoning.
No ice should be considered 100% safe ice - if you wish to venture onto the ice for any reason, please understand that it is at your own risk. We can not guarantee that any ice is safe ice.

Resources
Never been hot tenting? You'll find a list of different resources to help you on your venture into hot tent camping. 
Zack gives a crash course on how to set up a hot tent and what to expect with hot tenting.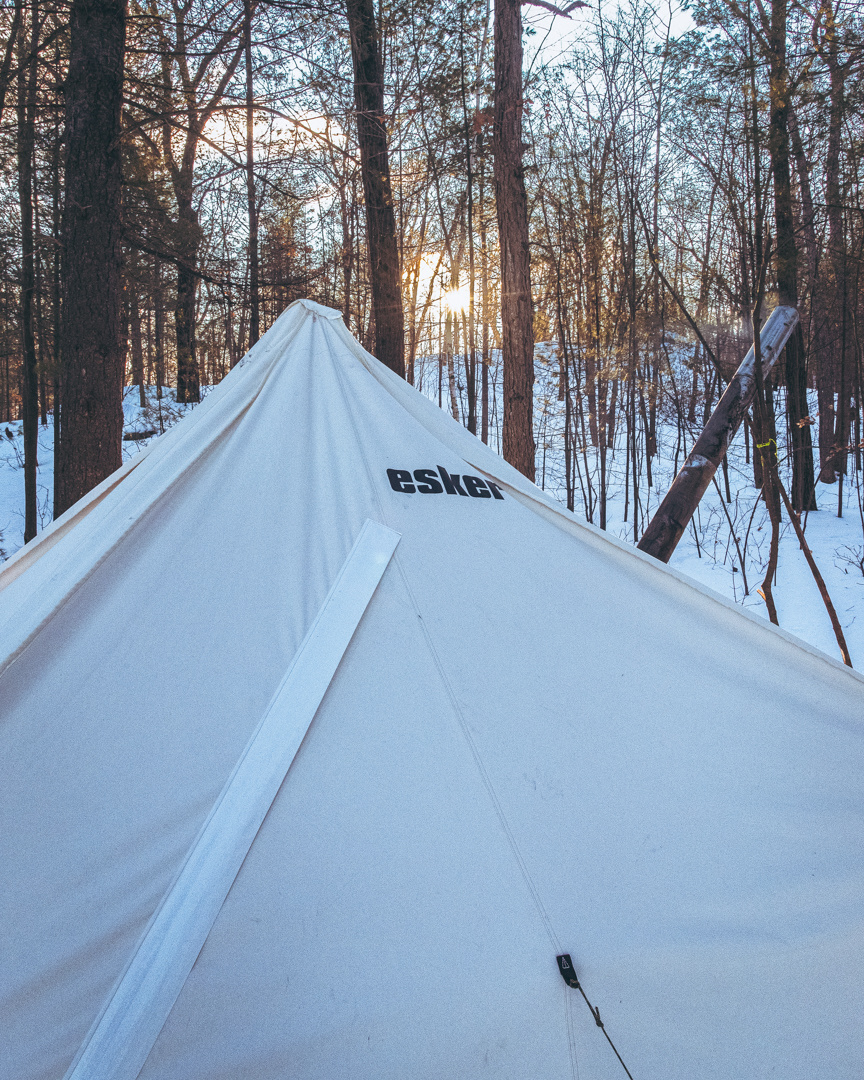 In this article, we discuss some of the challenges, safety precautions and address common misconceptions about hot tenting. We also offer some tips and tricks to making your backcountry stay comfier. Check it out here!
Do you want a list of stuff to consider bringing? We created a list for you to print, bookmark or copy and paste to the notes on your phone.

What to do!
While you're hot tenting, you can take advantage of some of the best winter activities that South Frontenac has to offer.
You can drive five minutes down the road to Frontenac Provincial Park and hike or snowshoe some of the many gorgeous trails it has to offer. Frontenac Park is on a unique geological landscape, a sliver of the Canadian shield, called the Frontenac Axis. Because of this, it provides some gorgeous vistas and beautiful trails.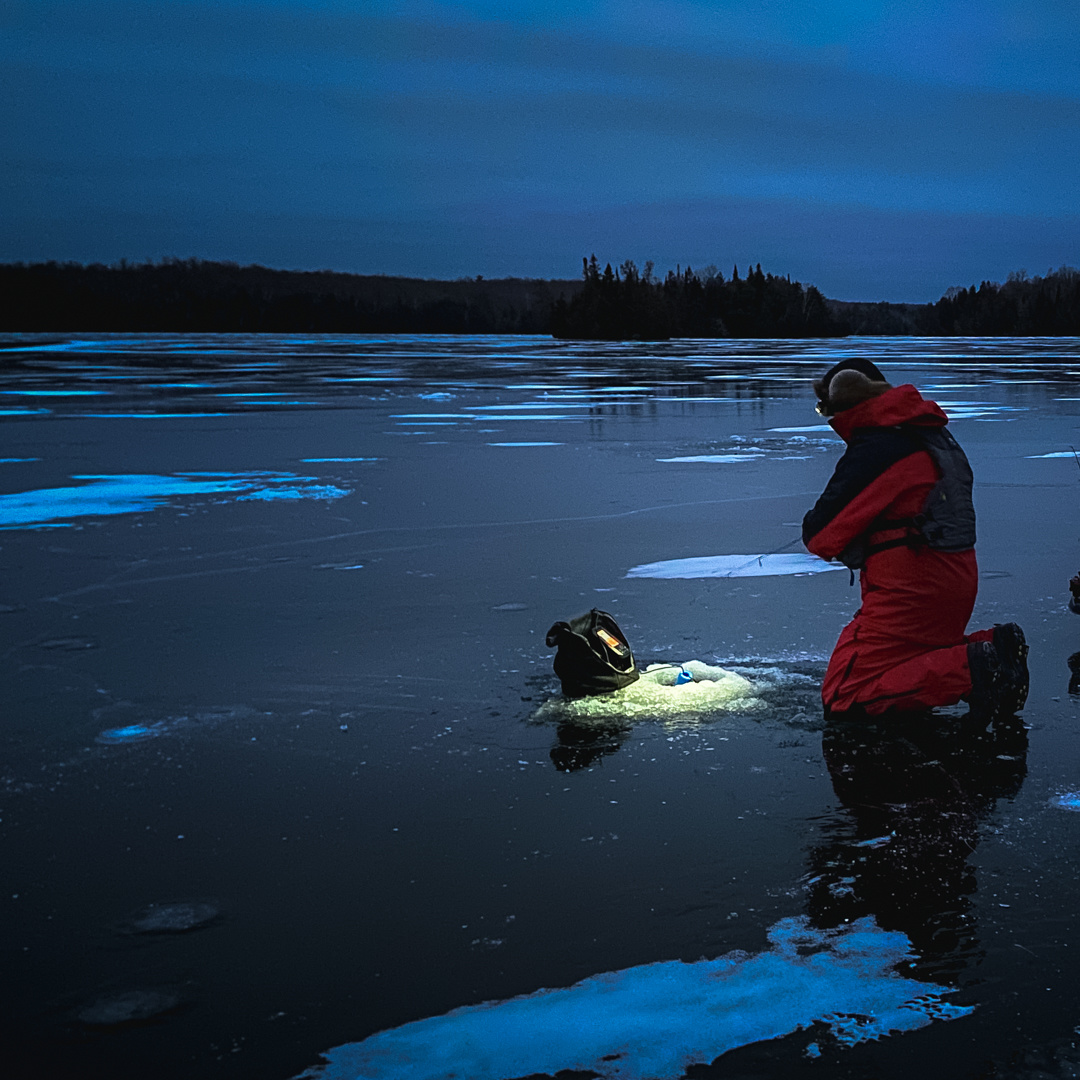 Frontenac Park also has excellent ice fishing opportunities. Many of the lakes surrounding the park have a healthy population of pike, black crappie, and yellow perch and some of the interior lakes are stocked with brook trout. During this time of year, some fish are out of season so please, check the fishing regulations to stay up to date with licenses, limits and fishing seasons. You can view the regulations here. If you have any questions regarding the regulations, please, don't hesitate to ask. Please understand that you're using the ice at your own risk.
Skating and hockey are also an option! Depending on the time of year and ice thickness, a section of the ice will be cleared of snow and available for skating or playing hockey. Please understand that any activities on the ice are at your own risk. We can not guarantee the safety of any ice.
More questions?
If you have any further questions, please reach out to us via email or phone. You can find all of our contact info here.
Call us to book your rental!
(613) 376-6220
Online Rental booking coming soon!