Where is Frontenac Provincial Park?
Frontenac Provincial Park is located about a 45-minute drive north of Kingston, about halfway between Toronto and Ottawa. The Park is situated on the Frontenac Arch, the southernmost part of the Canadian Sheild. Need directions? We've provided some further down the page.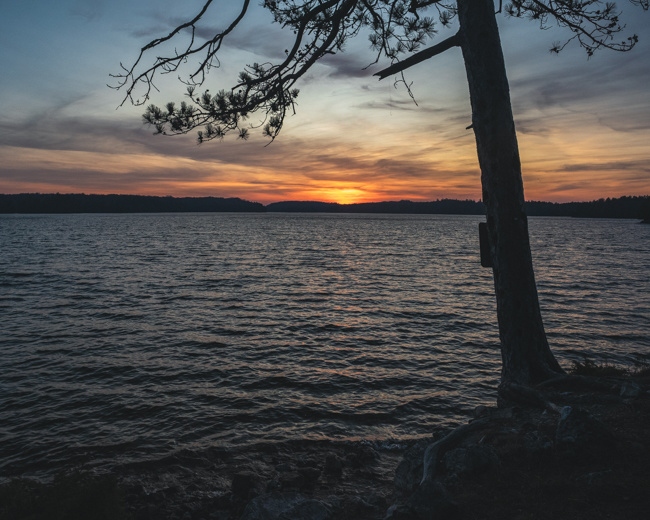 What does the park have to offer?
The provincial park has 22 lakes for you to paddle and explore. All of the interior lakes do not permit motors, apart from Big Salmon Lake, which allows electric motors. But, if you prefer to use your motorboat to go camping, you are permitted on all of the exterior lakes, such as Birch Lake, Buck Lake, Devil Lake, Kingsford Lake, and South Otter Lake.
Fishing
Many lakes in and around the park have excellent fishing opportunities almost year-round, including Brook Trout, Black Crappie, Northern Pike and more. You can also target Lake Trout, Largemouth and Smallmouth Bass during specific seasons. You'll want to be sure you're up to date with the fishing regulations which you can find here.

Try one of our rental fishing kayaks for the day and catch yourself a big one!
Paddling
Frontenac Outfitters offers rentals if you're looking for a canoe or kayak (including fishing kayaks) or SUP for a day or a longer trip.  We're conveniently located on the corner of Bedford Rd. and Salmon Lake Rd, which you'll have to travel down when you go to the Park Office. You can find more information on rentals here.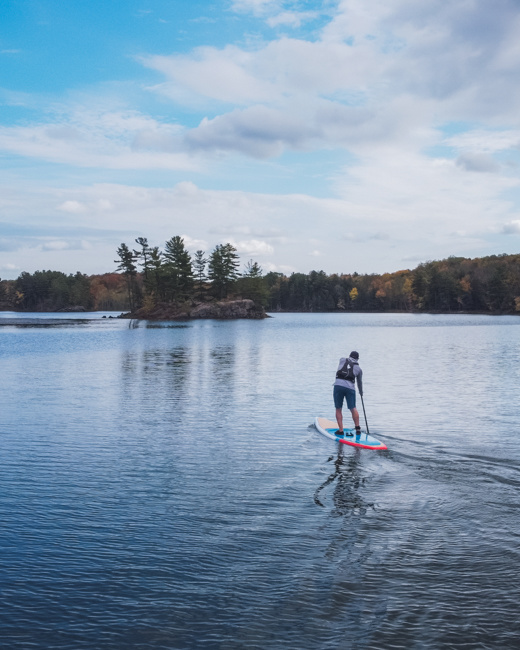 Hiking
A system of beautiful trails weaves its way through the park, taking you over rugged terrain resembling the Canadian Sheild. There are 12 trails totalling roughly 160 km in length. Maps of the park are provided by the Friends of Frontenac, which you can buy at the main park office or online. 
Campsites
Currently, 51 backcountry campsites are available in Frontenac Provincial Park. Many sites can be accessed without any portages if you would rather have a paddle-in site. Most sites are considered cluster sites, meaning they're grouped and share the same privy. Recently, the park introduced three solo campsites, offering extra privacy. Two of the sites are located on Big Salmon Lake, and one of them is located on Clearwater Lake.
The campsites come with a few extra amenities that are not always offered in backcountry sites, including a food storage bin, outhouses(privy's), tent pads, along with some of the others you'd expect, such as a fire pit with a metal ring, and a picnic table.

If you want more details on a specific campsite, the Friends of Frontenac have put together some information here. 

The Frontenac Challenge!
The Friends of Frontenac, a volunteer group, hosts a few exciting challenges within the park. The first one is the Hiker's challenge, in which participants must complete all of the trails in the park either within a year or within a single month. The second challenge is the All-Season Campers Challenge, where you must camp in the park at least one night a month for twelve consecutive months. For more information, visit the Friends of Frontenac website here.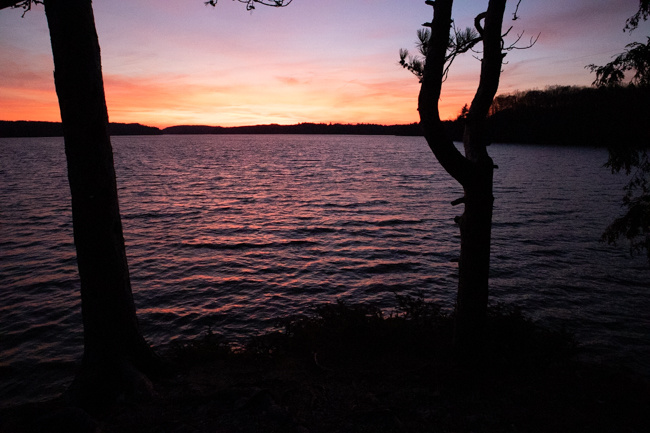 FRONTENAC PROVINCIAL PARK REGISTRATION AND FEES 
Parking Permit Fees Per Day
For any day-use activities, including hiking, canoeing, kayaking, cross country skiing, picnics, walks and bringing any vehicle or vessel into the park, or for 'drop-offs.'
$14.50 per vehicle
$11.50 per senior citizen vehicle
$7.25 per vehicle for youth groups or disabled persons
Free parking can be accessed from the North at Kingsford Dam or 6767 County Rd. 10; although these can be very busy spots, and parking is minimal. 
Backcountry Camping Permit Fees
Everyone camping in Frontenac Provincial Park must have a camping permit and be registered on that permit. You're expected to stay at the campsites specified on your camping permit for the corresponding nights. On the first day of your scheduled stay at the park, you'll be required to visit the park office to register and receive your campsite permits and parking permits. 
Reservations can only be made between April 1st and October 31st. During the winter months, it's a first-come, first-serve basis and camp permits must be obtained at the park office. You can make a reservation online, five months in advance, by using the Ontario Parks Website (linked below)
For route planning assistance or campsite vacancies, call Frontenac Park: 1-613-376-3489
(All prices have HST already included)
$12.43 per adult per night (persons 18 – 64 yrs)
$5.65 per youth per night (persons 6 – 17 yrs)
Less than 6 years of age free but still must be registered
$9.94 per senior per night (persons 65 + yrs)
$6.22 per person per night (disabled adult 18 – 64 yrs)
$2.83 per person per night (disabled youth 6 – 17 yrs)
Seasonal Permits
For day use purposes at any Provincial Provincial Park in Ontario
$175.00 Annual Day Pass – good from April 01/16 to March 31/16
$125 Summer Day Pass – good from April 01/16 to November 30/16
$85 Winter Day Pass – good from December 01/16 to March 31/16
Frontenac Park Fees – Youth Groups
There are no group campsites at Frontenac Park; however, a limited number of Youth Groups are permitted to camp at the park on the regular interior campsites, with a maximum of 16 persons per 4-site campsite cluster. 
Call the park for more information and to make group reservations: 613-376-3489. Space is limited so call early!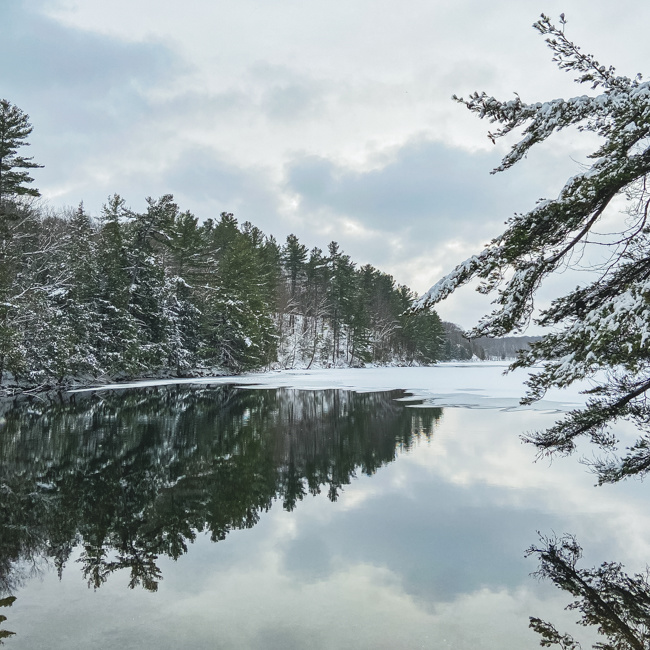 As a "semi-wilderness park," paying Frontenac Provincial Park Fees allows the park to continue to offer outdoor enthusiasts a different recreational experience in southern Ontario with canoeing, kayaking, hiking, backpacking, interior camping, cross country skiing, and snowshoeing, to mention a few. The terrain is fairly rugged as the park is situated on the Canadian Shield. The Park is open all year; therefore, permit fees are charged year-round.
The region, including Frontenac Park, was recently designated by UNESCO as a World Biosphere Reserve "one of the most significant landscapes on earth." Referred to as the "Frontenac Biosphere Reserve," – it is one of 15 reserves in Canada, 1 of 4 in Ontario.
HOW TO GET THERE
RECOMMENDED DIRECTIONS
FROM OTTAWA
Through Westport - From Sydenham - This route avoids major highways but has well-maintained roads.
https://goo.gl/maps/6L2C96TYgTPczuGU9

*Please Note* Your GPS may try and take you around the northern end of Sydenham Lake. The road "Little Long Lake Rd" is an unmaintained, mostly single-lane road, and we don't recommend taking this route. 
Through Westport - Northern approach - Please be aware many of the smaller roads on the northern part of the park can be winding and rough. Take caution, especially during inclement weather. 
https://goo.gl/maps/ixbHwCX1UcfwyFUF8
Through Kingston - Via 416 and 401
https://goo.gl/maps/Udtk6MrtNgaM2SQC9
FROM TORONTO
Via 401
https://goo.gl/maps/3XXwEUo6zntBXGqb8
FROM MONTREAL
Via QC 136 and ON-401
https://goo.gl/maps/3XXwEUo6zntBXGqb8
For more information, visit:
Friends of Frontenac Park website
Ontario Parks website

Make your campsite reservation here:
https://reservations.ontarioparks.com/create-booking/